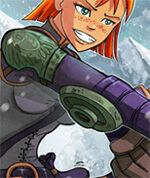 'I am from the kingdom of Kamala. There we're ruled by both Horn and Blackwing. However, the only gods are the stars over our heads. We're children born from ice and steel with blood that runs hot even when flesh sparkles with rime.'
Amerwyn is a Komalan Runor. She is young yet and has yet to really prove herself, however Runor training is hard and the Kamalans are tough people. Runors die often but they do so with honor.
She has been seen traveling with a Wood Witch, an Elf and one of the Thaa'hune.
Later she took a quest from one of the Thaa'hune that called himself Slate. The quest was to travel through the ruins of Ardan, and find one of the imps hiding there and slay it. She worked with Will Penterghast and a wood witch called Meadow. The three slayed the imp and broke up the small army it was attempting to rally. The true plan that the imp was never revealed, other than it was working with other imps for a greater, unrevealed goal.