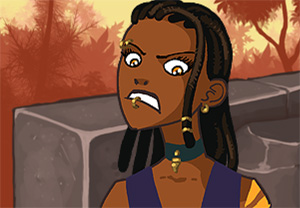 Meadow is a Wood Witch who was saved by Amerwyn when she was cornered by a group of knights. They intended to kill her for speaking with demons and refused to hear her explanation.
She is strong and cunning, but has lived a life of being prosecuted for simply being who she was born. She trusts few and is quick to anger when faced with any kind of discrimination or strong authority.
Meadow tends to do what she wants, when she wants, and for why she wants. She is hard to control and easy to anger, she has trouble making friends and even more trouble keeping them.
Information

[

]

| | |
| --- | --- |
| Name: | Meadow |
| Title: | Wood Witch |
| Age: | Unknown |
| Origin: | Unknown |
| Gender: | Female |
| Race: | |
| Appeared in: | Spellsword, Pact |
| Status: | Alive |
| Era: | First |
| Allegiance: | Unknown |
| Family: | Unknown |