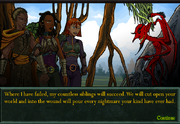 Game
[
]
The game is an oldschool turn-based RPG created by Hyptosis,kildorf,headphoamz, RicePirate and wandschrank.
Story
[
]
The Story starts, where  Spell Sword left off. The Thaa'hune Slate sends 3 young adventurers (Amerwyn, Will Penterghast and Meadow) on a quest to slay a fiend.
This is one of the many fiends who've been set free during the events in Hood episode 4.